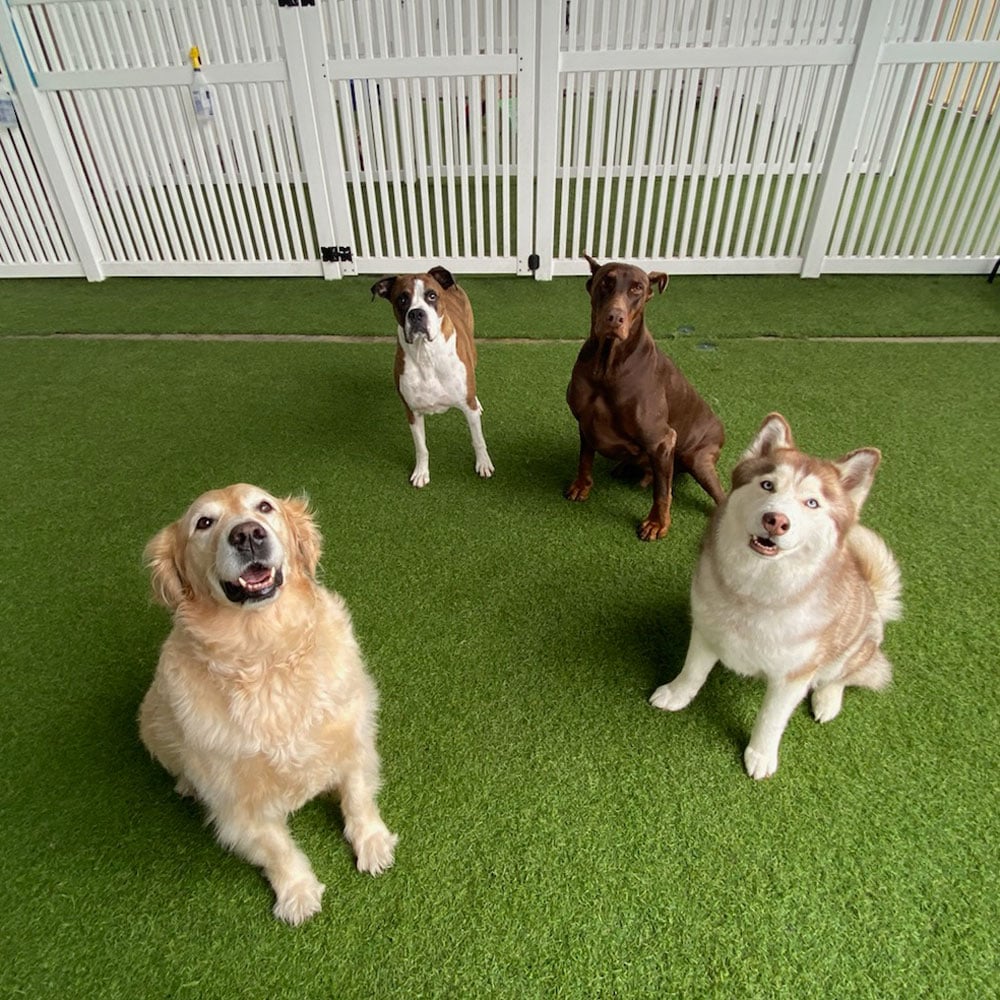 St. Mark's Dog Resort is not your typical doggie daycare! Our 1.25-acre outdoor play yards allow lots of space for your pup to romp around. Our 16" beach entry lagoon is our top attraction with all the pups! With all Day Play sessions, pups can spend time playing in the lagoon when weather permits. Dogs will only swim with their playgroups for their safety and enjoyment. We are happy to accommodate special requests if you want your pup to stay dry and out of the water. We implement breed restrictions for GROUP play- Pit Bull Terrier, Bull Terrier, Staffordshire Bull Terrier, American Bulldog, and any mix thereof. We are happy to have these breeds stay and play with us, but in Private Play one on one with our attendants.
St. Mark's Dog Resort requires all dogs to be up to date on Rabies, Bordetella, Distemper (DHLPP), and Canine Influenza (H3N2/H3N8). For our guests convenience, St. Mark's Dog Resort has the following over-the-counter vaccinations for purchase; DHLPP (1yr) – $30, Bordetella (1yr) – $25, and Canine Influenza (1yr) – $40. If desired, St. Mark's Dog Resort will assist you in administering any of the above purchased vaccinations free of charge.
For the safety of all pups in our play groups, we require an Initial Evaluation for any potential group day players. We offer these evaluations daily by appointment only. Your pup will be evaluated by one of our trained attendants who are trained to look for your pup's temperament and play style to determine if they are eligible for our group play. Our evaluations are done from the hours of 12:30pm – 5pm.
FULL DAY PACKAGE:
24 days for $695
12 days for $385
6 days for $199
HALF DAY PACKAGE:
(am or pm)
24 days for $475
12 days for $325
6 days for $130
*All packages are valid for 90 days from date of purchase. 
AM ½ Day Session of Play: 7 am-noon weekdays and 8 am-noon weekends.
PM ½ Day Session of Play: 2 pm-7 pm weekdays and 1 pm-5 pm weekends.
Initial Evaluation: 1 pm-5 pm.
Full Day Session of Play: Opening to closing with Nap Time period.
Daily Nap Time: Weekdays 12 pm- 2pm and 12pm-1pm weekends.